To manage water flow, you will need a hydraulic structure. It is designed to retain, regulate and control water flow. There are several types of hydraulic structures: dykes, dams, canals, flood protection systems and hydraulic works. To find out more about these, we invite you to read this article.
THE DIFFERENT TYPES OF HYDRAULIC STRUCTURES
Discover the different types of hydraulic structures:
DYKES FOR FLOOD PROTECTION
Man-made dykes prevent water from entering sensitive or populated areas. Therefore, they provide a great deal of protection against flooding and overflow. They are usually built parallel to the river or the coast.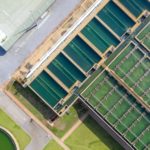 DAMS
Dams are built across a river. They are used to retain a large or small quantity of water temporarily. Dams can be used for various purposes: to irrigate a field, to produce hydroelectric power, to supply drinking water or to regulate the flow of a river.
CANALS
Canals are used to route water from one point to another. They can also be used as waterways.
HYDRAULIC WORKS
Hydraulic works include both flood protection and submersion works as well as works for the containment of floods. These are, for example, flood retention basins or flood control dams.
WHO TO TRUST FOR THE HYDRAULIC WORKS CONSTRUCTION?
Public works should be carried out by construction and civil engineering companies. For example, you can contact the TBP company which specialises in the construction of hydraulic infrastructures related to drinking water.
The company builds circular reservoirs of up to 10,000 m³, treatment plants, pumping stations and water towers.
TBP also builds hydraulic infrastructure related to sanitation. The company builds reservoirs, water treatment plants and pumping stations. It also lays various water pipes. Thanks to these works, the hygiene and comfort level of the city's inhabitants will be improved and sustained.The company is also involved in the construction of irrigation infrastructure. You can entrust it with the creation of reservoirs of up to 20,000 m³, networks or pumping stations.
TBP is a professional company that guarantees solid and durable infrastructures. All our products are well executed. They can be used in the best conditions for many years, because they are created with reliable materials.
Renowned in civil engineering, the company also carries out other work, such as the construction of roads and other networks, earthworks, and agricultural tracks. It also builds hotels, industrial complexes and residential buildings. You can request a quote without delay.