ELECTRICAL EQUIPMENT AND MATERIAL
TBP offers the following products and solutions concerning electrical equipment and materials: switches, intercoms, home automation, energy saving solutions, solutions and materials for residential lighting, commercial lighting, industrial lighting, circuit breakers , electrical box, electrical transformers.
Electrical equipment and Material represent the equipment used for the generation, transmission, distribution and use of electrical energy. Electrical equipment operates in many different environments, including residential wall outlets, commercial power plants, electrical systems in government buildings, shopping malls, industrial hubs, sports stadiums and many other locations.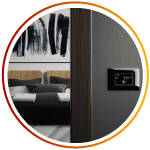 SWITCHES
Our product range covers: System 44 and System 45: Controls and accessories, Sealed Series Plates Exposed Boxes Mounts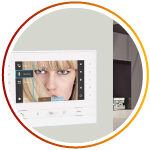 INTERCOM AND VIDEOPHONE
Our product range covers: Intercom, Videophone, Street Panel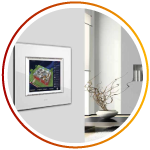 AUTOMATION
Our product range covers: Centralization of rolling shutters, Nurse call, Hotel management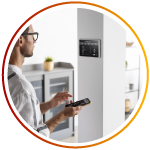 ENERGY SAVING
Our product range covers: Motion detector, Measurement / Power supply, Chronothermostat and thermostats, Programmable and intelligent switches, Gas detectors, High sensitivity proximity detector
COMMERCIAL AND TERTIARY LIGHTING
Our product range covers: Track projector, LED Panel, LED Strip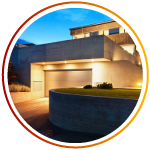 ARCHITECTURAL & RESIDENTIAL LIGHTING
Our product range covers: wall light, decorative portholes, LED beacon lighting, garden bollards, spotlights, bathroom lights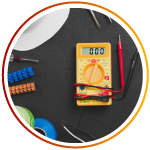 ELECTRICAL LIGHTING EQUIPMENT
Our product range covers: Transformers & Regulators, Lighting Components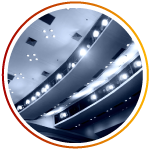 INDUSTRIAL LIGHTING
Our product range covers: Armature, Projector, Waterproof luminaire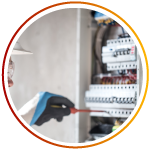 Electrical BOXES AND ACCESSORIES
Our product range covers: Flush-mounted box, Surface-mounted box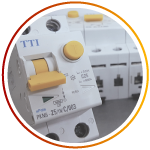 MODULAR CIRCUIT BREAKERS
Our range covers the following products: Circuit Breakers, Differential Circuit Breakers, Modular Switches, Differential Switches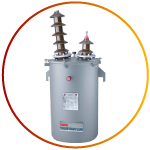 SINGLE-PHASE TRANSFORMERS
Tunisie Transformers is the only Tunisian company to obtain Canadian technology for the production of single-phase circular type transformers.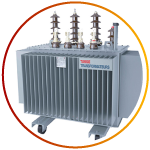 THREE-PHASE TRANSFORMERS
Three-phase transformers, hermetic type, immersed in mineral oil, ONAN natural cooling and compliant with CEI -76.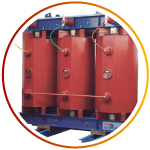 RESIN TRANSFORMERS
Able to be used for multiple applications, our range of resin transformers is appreciated on the national and international market for its quality, efficiency and energy saving, it includes powers ranging from 50 kVA to 3150 kVA, with voltage up to ' at 33kV in insulation class at 36kV.