TBP, via its partner DELTA CUISINE, has been positioned for several years as the undisputed leader in the manufacture of Dressing rooms, on the Maghreb and on sub-Saharan Africa markets.
Our competences are to design, sell, manufacture, deliver and install kitchens and storage units (dressing rooms, bathroom furniture, etc) that are custom-made.
Installed in a factory of 9 000 m in the heart of the industrial zone of Mghira in the suburbs of Tunis, the group combines the traditional values of work and confidence with advanced technologies and a taste for innovation.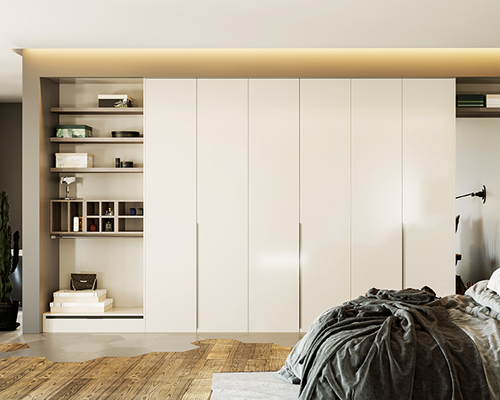 Dressing Definition
The term 'wardrobe' refers to a piece of furniture with several compartments for storing clothes, shoes and accessories. Closets are very practical because they allow for organization and quick access to stored items. There are two main types of closets: walk-in closets and reach-in closets.
The former is installed in a dedicated room, while the latter is installed within a room. Walk-in closets are most often used by people with large collections of clothing who want to display their most valuable items. Reach-ins, on the other hand, are suitable for people who have fewer rooms or live in smaller spaces and simply want a convenient way to store and access their belongings.
Dressing Design
In terms of design, closets can be as simple or elaborate as you like. Many people choose to install a wardrobe that matches their existing layout, for example, dressing up an otherwise bare bedroom by adding a large wooden wardrobe matching the bed frame.
Other people prefer closets that are more decorative than practical – numerous small compartments with mirrors on the sides create an elegant look that can be appreciated by visitors and guests. Others have wardrobes designed to stand out from the rest of their home decor – a brightly colored wardrobe and a stylish wardrobe.