Industrial Paving
TBP offers a wide range of products and services for industrial paving. We cover: metallic fiber for reinforced concrete, synthetic fiber for reinforced concrete, carbon fiber for concrete.
Industrial paving is part of our reinforcement solutions for reinforced concrete. Our team of experts are available to support and provide you with the best technical and financial solutions for your construction projects.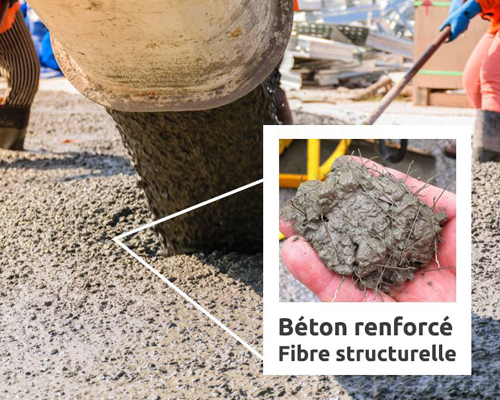 METALLIC FIBER FOR CONCRETE
The choice of concrete reinforcement has a crucial influence on the quality, safety and longevity of your structures. Using the correct reinforcement improves concrete strength and helps control cracking. Metal fiber reinforced concrete is an effective and flexible solution.
State-of-the-art technology :
Concrete has low tensile strength and low ability to deform without breaking. Reinforcement is needed to resist the stress in the structural elements. World-renowned institutes such as CSTB, CERIB, AFGC, ASQUAPRO, ENISE, INSA, etc. recommend the use of metallic fibers to reinforce concrete in order to:
Prevent cracking
Improve impact resistance
Prevent spalling damage
Next level of concrete performance :
Unlike conventional reinforcement, our metallic fibers effectively reinforce every part of the concrete structure, allowing small cracks to be detected as soon as they appear.
SYNTHETIC FIBER FOR CONCRETE
We deliver several synthetic fiber solutions for concrete in order to safeguard your constructions and ensure the durability of your buildings.