Renewable energy (including solar water heating), also called Green energy and clean energy, can be produced from resources such as sunlight, wind, rain, tides, plant matter and geothermal heat .
It helps reduce pollution and greenhouse gas emissions while producing cost-effective energy for consumers.
Among these renewable energies, solar energy is a natural source of clean energy that and it's an unlimited energy. Solar energy can be collected and directed to particular areas using many devices like solar collectors, also known as photovoltaic cells.
TBP provides solutions and products using solar energy, such as the solar water heater perfectly suited for our African regions where the sun shines almost continuously.
Renewable energies: solar water heater is a product at the cutting edge of technology and help reducing the use of fossil energy and guaranteeing a healthy environment for us and for the whole planet.
HISTORY OF THE SOLAR WATER HEATER
Solar water heaters were discovered by Horace de Saussure in 1767, who pointed a closed container with a pinhole at the Sun for several hours. By measuring the amount of water that evaporated from the container, he showed that it increased in proportion to the solar intensity.
OUR REFERENCES
We have several references in renewable energy projects: solar water heater. Our installations have been carried out in:
residential complexes
hotels
agricultural farms
university hostels
soccer stadiums
RENEWABLE ENERGY: SOLAR WATER HEATER
Hot water is among our basics needs, which unfortunately can be expensive if available through traditional water heating methods.
Solar water heaters are a blessing, because not only do they provide instant hot water on demand, but they also reduce your electricity bills significantly.
We are specialized in the design, production and supply of solar products integrating the best of technology in terms of thermal sensors designed by our German partner KBB.
All our marketed solar water heaters have the thermal and mechanical performance required by the Tunisian PROSOL program. They also have the international "Solar Keymark" certification.
EXPORT MARKET
Crowned by the certification of the "Solar Key Mark" range in Germany, an authentication which is only awarded to 21 companies specializing in the manufacture of solar water heaters worldwide, BSI has become an international export hub.
More than 20% of the production is intended for export for customers in several countries:
France (overseas islands namely Reunion, New Caledonia, Martinique)
Morocco
Algeria
Benin
Senegal
Burkina Faso
Niger
The ivory coast
Egypt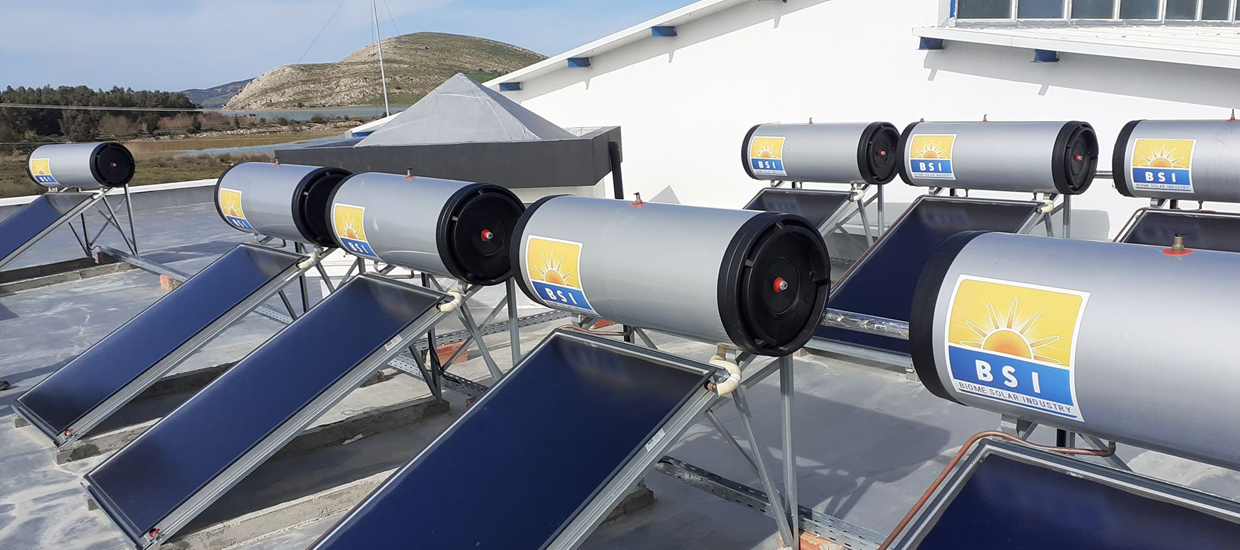 THE SOLAR WATER HEATER: A GREEN SOLUTION
The world is currently facing an enormous environmental challenge. It will therefore be urgent to reduce consumption and greenhouse gas emissions in order to preserve the environment for future generations. Global temperatures are already expected to rise by 3°C by 2070.
The solar water heater is an ecological, sustainable and economical solution! thanks to the fact that it does not pollute with CO2 or other gases. The energy needs of a future family are covered with this type of water heater.
These products are the best option for the production of hot water at home, in a company, office, hotel, or in a factory.
THE TECHNICAL CHARACTERISTICS OF A SOLAR WATER HEATER
The solar water heater is a fairly simple device to use. The main technical characteristics to consider when making your choice are:
1- The surface of the solar collectors: this is what determines the quantity of hot water that your solar water heater can produce. TBP has a very wide range in this sense to suit all your needs.
2- The volume of the hot water tank: choose it according to the needs of your home, your factory or your organization (hotel, hospital, etc.)
These two characteristics depend on your needs, but also on the space you have on your roof.