Curtain Walls
We offer several types of mullions and transoms curtain wall systems which can be with cold or thermal break profiles:
Structural glazing facade:
The glazing is glued on aluminium frames forming panels separated by minimal joints. Giving an aspect of totally glazed facade.
Stick curtain wall system:
The glazing is fixed on the structure by clamps covered by aluminium caps giving an aspect of a glazed façade with aluminium screening.
Horizontal line facade:
The glazing is clamped on the transom. The covering is realized by using the appropriate masking (elliptical) strips to stress one direction of façade division giving the appearance of strips. The vertical joints are masked with so-called weather silicone or special gasket, thus making them not visible from the outside.
Semi structural glazing or clamped facade:
This system is used for the construction of curtain walls and filling type as well as roofs, skylights and other spatial constructions.
It provides a uniform external appearance of a smooth glass wall divided by the structure of vertical and horizontal lines of 2 cm, thanks to the use of a special system for fixing panes to structure.
The joints between glazing panes are filled with a special silicon binder to ensure high tightness of the construction and enhance its insulation properties.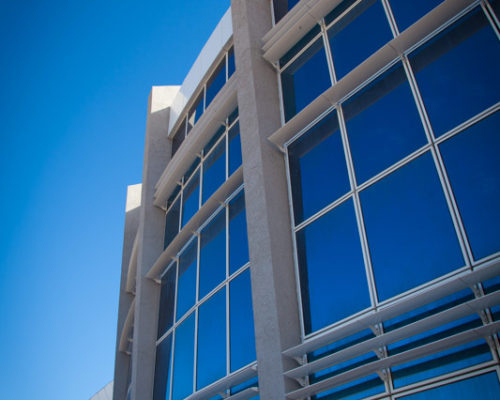 DEFINITION OF CURTAIN WALL
Curtain Wall systems are non-structural cladding systems for the external walls of buildings. they separate the interior from the exterior, but only support their own weight and the loads imposed on them (such as wind loads, seismic loads, and so on) which they transfer back to the primary structure of the building.
Typically curtain wall system comprise a lightweight mullion-transom aluminium structure onto which glazed or opaque infill panels can be fixed. These infill panels are often described as 'glazing' whether or not they are made of glass.
Curtain wall structure and panel designs are very complex, as they need to perform multiple functions:
– Transferring loads back to the primary structure of the building.
– Providing thermal insulation and avoiding cold bridging and condensation.
– Providing fire, smoke and acoustic separation (at joints between the curtain wall system and interior walls and floors).
– Creating a barrier to air and water penetration.
– Accommodating differential movement and deflection.
– Preventing panels from falling out of the frame.
– Allowing for opening windows.
– Preventing the accumulation of dirt.
WHAT ARE YOUR PROJECTS?
We have a strong experience on the Tunisian market as well as several projects in Africa.
For all your projects of installation of a curtain wall, our research department and our engineers are at your disposal to transmit you a study and an estimate which fits your needs with a guarantee of a total satisfaction of the final result.