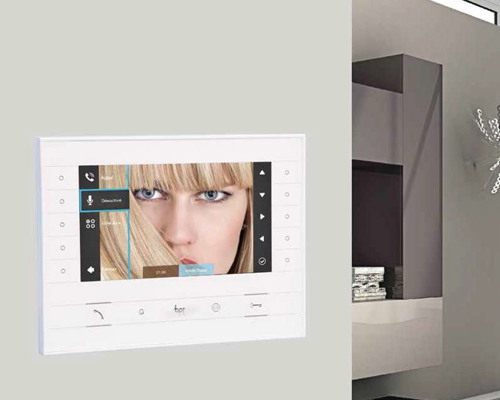 Intercom and videophone
Our intercom and videophone range:
– Intercom: intercom, hands free intercom, multi-home intercom
– Videophone: video monitor, touch wide video monitor
– Street intercom plate: video door intercom, audio door intercom, street intercom for buildings

What is an intercom?
A home intercom, also known as a telephone entry system and door intercom, is a device that allows a person to see and hear visitors at their door from inside the home.
This can be done in several ways, including through direct connections for wired connections, or through the use of mobile devices with a mobile Internet connection such as mobile phones or smartphones.
Home intercoms allow homeowners to control access to their home when they are at home or on the move.
WHAT IS A VIDEOPHONE?
A domestic videophone is a live transmission from one's home, visible to others. It can be a permanent telephone line or a webcam.
A home video phone is used to make video calls from your home, allowing you to see your interlocutor on a large screen.
Its use is valid for domestic, industrial, hotel sector or medical centers (hospitals, clinics, doctors).