In this article, we will discuss technical solutions for your plasterboard and ceilings with our partner COMAF.
Plasters are one of the most popular building materials at the moment. For this reason, they can be used on partitions, insulating linings or on a ceiling.
They are most often seen in the form of plasterboard which can be screwed and glued. Plasterboards are very popular if you want to make ceilings in residential structures. But what techniques exist when it comes to plasterboard and ceilings?
REMOVABLE FALSE CEILINGS
Removable false ceilings or suspended ceilings are both aesthetic and insulating techniques. They are also well suited if the original ceiling of a house is too damaged or too high.
Removable plasterboard ceilings are extremely decorative – you can choose from a variety of finishes.
Besides their aesthetic appeal, plasterboard removable ceilings are also very practical. They allow you to free up space for insulation structures and electrical cables. This solution is the best alternative for renovation work.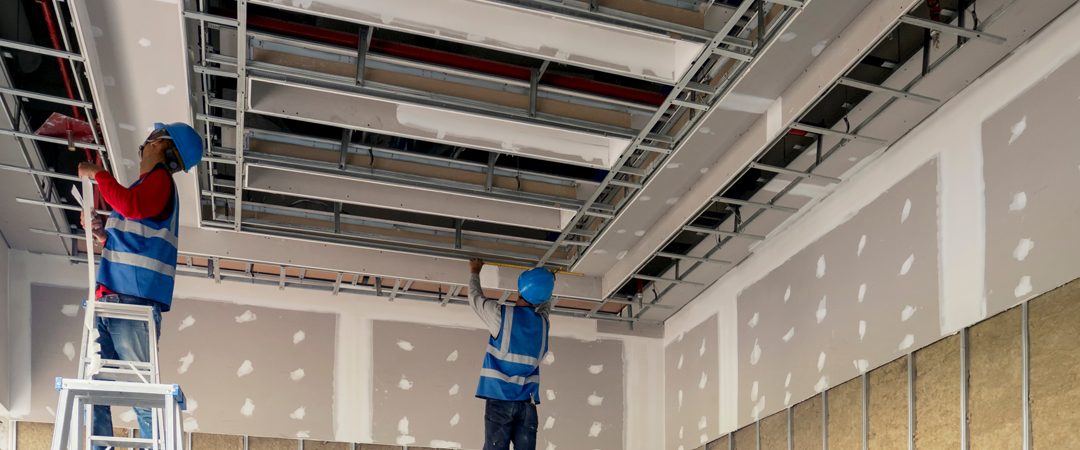 PLASTER COATING
Plastering is also a very common technique. It can be in plaster or in powder form to be diluted with water. Unlike other solutions, it takes some time to dry. It is, however, an affordable solution for insulating your ceiling while giving it a bit of an aesthetic look.
It is also worth noting that plaster coatings are not suitable if your ceiling is damp, especially if you are using the powder form. The preparation of the ceiling also ensures its effectiveness. But once installed, it will look like a false ceiling or plasterboard.
PLASTERBOARD
Plasterboard is a building material the same size as a brick. However, its manufacturing materials are plaster and reinforcing mesh. It is the most commonly used material for walls and ceilings in contemporary houses.
It is also a very easy material to install and saves you a lot of time. You don't have to wait for a drying time when installing it. This is not the case with plaster powders which have to be mixed with water. When combined with glass wool, plasterboard becomes a good thermal and sound insulator. It is also a non-combustible product.
Our sales representatives are at your disposal to give you technical solutions for your plasterboard and ceilings and to ensure the success of all your projects in this respect.