We offer state of the art solutions in solar water heating. In this article, we will discuss this solution and its effectiveness, especially for a market with very high sunlight levels.
Hot water is a comfort we all want to enjoy. But the price to pay for access to it is still high. Fortunately, it is now possible to access it with the help of solar energy.
WHAT IS A SOLAR WATER HEATER?
This is a system that is designed to provide hot water in a house by harnessing solar energy. The solar water heater can provide a total or partial supply of domestic hot water needs.
The solar water heater is composed of three elements:
– A thermal panel that captures the sun's energy to transform it into usable heat;
– A water tank that will serve as storage;
– A circulator or pump that will transport the energy to your water tank.
The solar water heater has many advantages. Its use not only reduces your bill since you are using an endless and totally free resource, but also your CO2 emissions – a very good gesture towards the environment. Moreover, it is possible to have 2-in-1 panels that provide you with both electricity and hot water.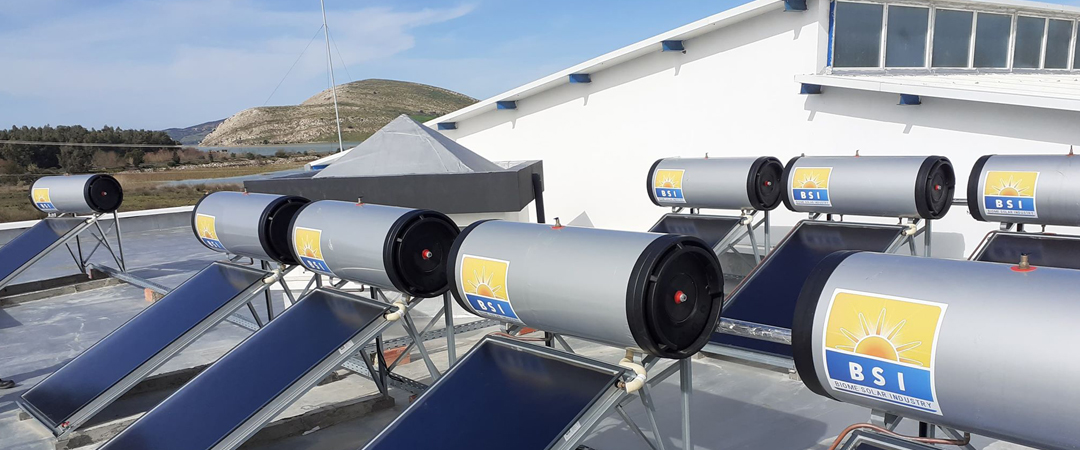 WHAT ARE THE DIFFERENT TYPES OF SOLAR WATER HEATERS?
If you wish to choose this solution for your home, make sure you choose between the three varieties of solar water heaters.
THE THERMOSIPHON WATER HEATER
The installation of this type of solar water heater is rather problematic. The water tank can only be placed at a certain height from the panels. The hot water rises from the panels and then flows back down into the house's distributors.
THE MONOBLOCK WATER HEATER
This solar water heater works in the same way as the thermosiphon one. The difference is that the whole system is installed together and can be placed almost anywhere, even in the garden, as long as the panels are able to collect solar energy. However, as the water tank remains in a fixed location, this is problematic during the cold season, as it would then be difficult to keep the water at a certain temperature.
THE ELECTRIC PUMP WATER HEATER
This is the most popular option for users, as it is fairly easy to install, although it is more expensive than other models. Indeed, the electric pump water heater gives you the possibility to separate its components to suit the space available to you. This type of solar heating can be adapted to all types of housing but is still susceptible to breakdowns as it must be equipped with a regulator.