Single Phase Transformer
Description
Tunisie Transformateurs is the only Tunisian company who obtained Canadian production technology of single-phase transformers canadian circular type. It has been produced since 2002. It's an immersed mineral oil cylindrical shape type which allows pole installation until a power of 3x210KVA= 630KVA.
Product Specification
Production specification covers requirements for both :
– Standard or classic on pole without integrated protection
– CSP (completely self-protected) and conventional type transformers
CSP transformers include attached primary arrester , primary fuse and appropriate secondary over-load and short circuit protection . For conventional transformers, shall be included.
Conception Features
Our transformers are designed in accordance with the latest revisions of AINSI & IEC standards.
The core of magnetic circuits are of the oval and are winding sheet.
This design reduces the load losses & increases its resistance to electromechanical shocks.
Test laboratory & Quality Conrol
Our laboratory equipments are calibrated by the Metrology of DEFNAT with its national and international accreditation which meet STEG requirements , IEC 76 standards, individual and types test.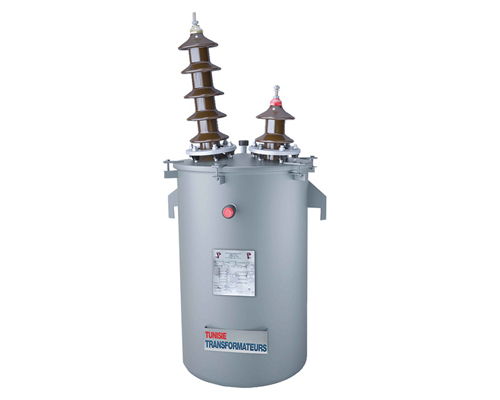 Definition
Single-phase electrical transformers, or "transformers" as they are known for short, are electrical devices designed to transfer electrical energy from one circuit to another by magnetic coupling.
Single-phase electrical transformers are used to convert one voltage level to another or to adapt one load to another. They are commonly used in uninterruptible power supplies (UPS).
DIFFERENCE BETWEEN THREE PHASE AND SINGLE PHASE TRANSFORMERS
A single-phase electrical transformer is a type of electrical transformer by which one voltage is converted into another voltage, but with the same relative power.
Unlike the standard three-phase transformer, a single-phase transformer has only one winding which performs the primary and secondary functions (as opposed to two or three windings in three-phase transformers).
This means that from maximum load to zero load of the transformer, there are fewer turns in the primary winding than in the secondary winding.