Home Automation
Home automation is the control of household equipment, lights, heating, air conditioning systems and other systems through a centralized interface.
Home automation includes the control of a single-room systems, a multi-zone systems in order to provide comfort, security, and energy savings.
Our product range:
– Shutters control
– Bus centralization
– Wired centralization
– Nurse call system
– Hotel managment system
Home automation solutions allow you to:
– heating/air conditioning management
– programming of several scenarios
– shutters control
– lighting control
– irrigation control
– IP camera control
– gaz/water leakage detection
– alarm control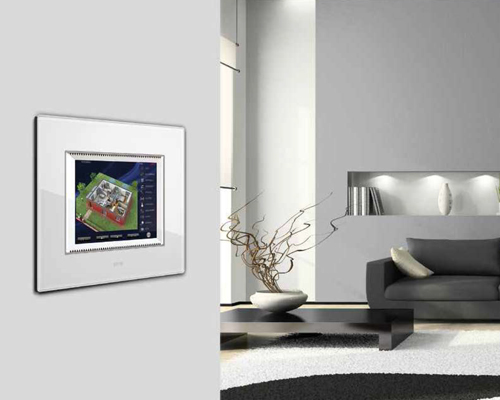 F.A.Q
WHAT IS HOME AUTOMATION?
It is a smart home technology that involves the remote control of lighting, shutters, air conditioning, security devices and even domestic appliances, through your smartphone.
Smart home devices are available in many retail stores and can be installed by professionals or by yourself.
It is more than just Internet of Things (IoT) devices used in a home. Home automation provides features that add comfort and convenience to everyone, including older people or people with disabilities.
The integration of systems into the home provides a greater ability to monitor and control lighting, temperature and humidity, as well as other elements of the domestic environment.
WHAT IS THE NURSE CALL?
Patient call or nurse call are systems used in hospitals or clinics that are part of automation and smart management of spaces and places.
This term defines systems allowing patients in difficulty to call on the nursing staff. The patient activates a manipulator (also called a pear) or a pull rod to signal a problem, requiring the intervention of the appropriate personnel with the necessary speed.
The alert causes the activation of an indicator light generally located in front of the room or room concerned. It is also transmitted by activating a light in the nurses' room.
The proposed solutions are either wired systems or wireless, radiofrequency systems.
WHAT IS THE CENTRALIZATION OF YOUR ROLLER SHUTTERS?
The centralization of your roller shutters allows you to control your shutters from a single control point: remote control or wall transmitter. A very practical system when you have several roller shutters in your home. There are different wired or BUS centraliser configurations.
WHAT IS THE BENEFIT OF CENTRALIZING YOUR ROLLER SHUTTERS?
Centralizing your electric roller shutters is the optimal comfort and security solution for housing or professional and administrative premises.
However, many people mistakenly believe that centralization is only possible in new buildings or induces a fairly large renovation budget. The choice now possible between wired centralization and BUS centralization of its roller shutters makes centralization accessible to any installation and opens the way to complete, easy and affordable home automation.
Centralization is a real asset because it is much easier to press a single button to close or open all the roller shutters in the house at once rather than going around the house room by room.
Saving time and comfort, centralization also makes it possible to switch the entire house to "day" mode or "night" mode, by playing on the external brightness.
Centralization is often the first step and the easiest to take, towards home automation and the connected home. TBP offers solutions adapted to your buildings, residences or offices.
Have you a Home Automation project ?
Our teams are at your disposal. Just contact us:
Tel: +216 71 752 300
Email: sales@tunisia-building-partners.com
Our product range covers the Centralization of roller shutters (Bus Centralization, Wired Centralization), Nurse Call, Hotel Management.
Home automation is the integration of devices, software and technology to control the elements of a home or building. This may include lighting, temperature, audio, video entertainment and security systems. Home automation systems can be used to reduce energy consumption and make other improvements to the environment in a house or building.
Home automation systems use sensors to detect changes in their environment. They then route information to other components of the system using wireless signals. The components that receive this information may be used for purposes such as controlling lights, heating or cooling systems. Systems may also use voice recognition software to control these functions with simple voice commands or by touching sensors on an electronic device.
Some home automation systems are built into appliances such as refrigerators, ovens or microwaves while others are built into electrical outlets on walls or ceilings near doors and windows. Some devices also have motion sensors that can detect whether they have been moved without having any physical contact with them.